Considering a Condo?
Contact

CJ DelVecchio

– your Ithaca condo specialist!
***February 2018 update: CONDOS ARE SCARCE!!! Very few have been coming on the market and there is a high demand of buyers.***
Buying?

You will need a REALTOR® to help guide you through each neighborhood, helping you evaluate the recent sales and also the value for each unit that may be purchased. Choose a REALTOR® who has been in all the different units, has experience in selling condos and can offer advice on sale prices as well as benefits of each area. 

Selling?

Contact me for a walk-through of your condo and an overview of the market, the steps to selling successfully in today's market and a review of my marketing plan.
About Condos/Townhouses in the Ithaca Area…
There are a variety of condos/townhouses in the Ithaca area – this website will help you understand more about your condo options and recent pricing.
Be financially prepared (if you need a mortgage, go to the

bank

to get

pre-qualified

)

Drive around each of the areas to see the different settings and styles available from the outside. You may decide one fits your needs best from the grounds and overall location.

Learn about the different ownership types including Planned Unit Development (i.e. Commonland) vs condos vs townhouses – learn more: 

helpful link on HUD

Review the information detailed here on recent sales to help you get familiar with the range of pricing and square footage for each area.

Association Dues – they are set by the HOA Board, the rates listed here may be slightly different if the board made recent changes. Each HOA has a set of rules and regulations which list what is covered exactly in the dues; you will have to check each HOA individually for the most up-to-date information. There is also a property manager for each HOA, along with the member-owners who sit on the board for the HOA.
---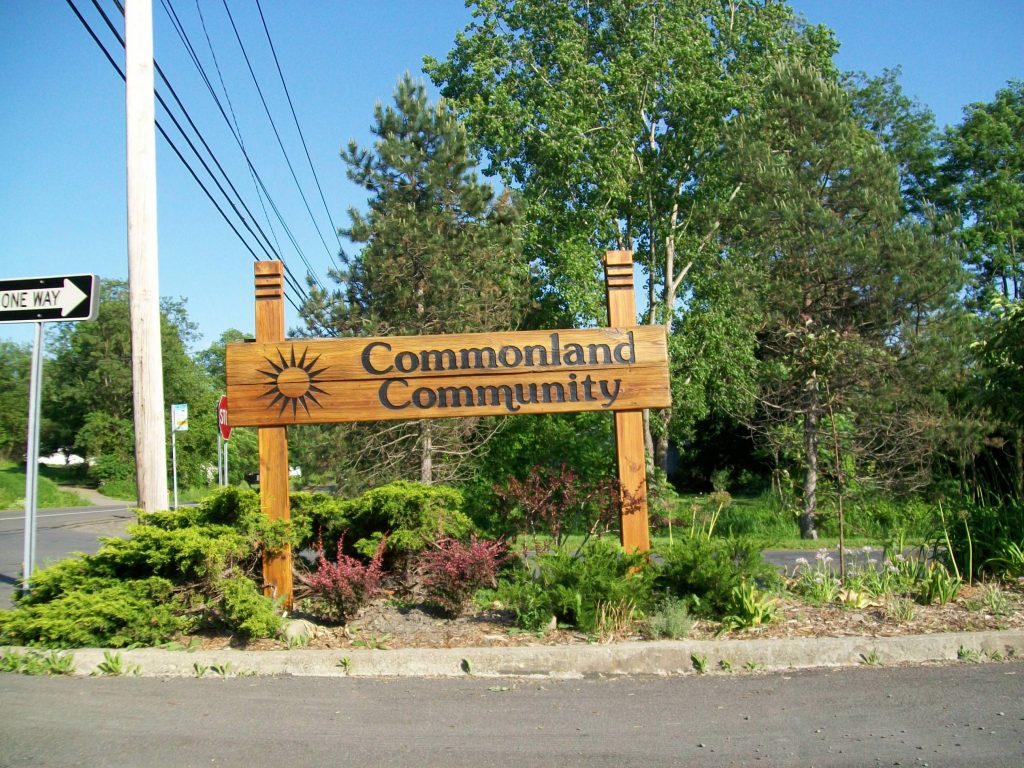 Close to Cornell University and on the TCAT busline on the East side of town, these units have 1-2-3 bedroom units with a variety of floor plans including a split-level design and a townhouse design. It is situated close to Six Mile Creek Preserve and was originally started in the 1980's as a green building design. There is a Community building, ballfields, a pond and common laundry areas.
Many owners have added their own on-site laundry in their units over time. 

There is a community garden for use by residents.

There is an email listserv for Commonland and there is an Association to manage the financial and social decisions of the community. Many people who come to Cornell or Ithaca College have lived here and enjoyed a more home-like atmosphere than renting.

There are deed restrictions which prohibit long-term renting of the units so these are mainly owner-occupied. Some of the end units and lower units enjoy close proximity to the nature preserve and all that it brings – deer, birds, and more!

Association dues are $240 per month (as of 1/1/2018). Not every unit has a carport, but if one does, there is an annual fee (was $30 in 2017-inquire per unit).  The dues include water and sewer bills and garbage service, exterior maintenance, plowing and mowing. Heat/electricity and taxes are the owner's responsibility.
I know Commonland!  Here are properties I have sold:
62 Lois Lane – sold in 2006 (buyer's agent)

43 Lois Lane

– sold in 2006

13 Penny Lane

 sold in 2010

39 Penny Lane

 sold in 2010

78 Lois Lane – sold in 2011 (buyer's agent)

21 Penny Lane

– sold in 2011

43 Penny Lane

– sold in 2011 (buyer's agent)

41 Penny Lane

– sold in 2013  (buyer's agent)

78 Lois Lane

– sold in 2015

52 Lois Lane – sold in 2016 (buyer's agent)

43 Penny Lane

– sold in 2016

55 Lois Lane – sale pending in 2018 (buyer's agent)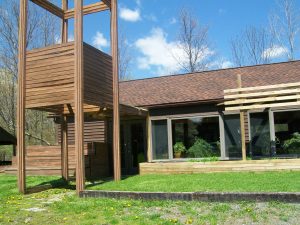 Barbeque area for residents
---
Option #2: Welcome to Sevanna Park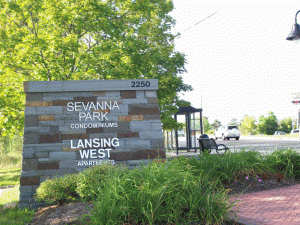 Also close to Cornell University and on the TCAT busline, Sevanna Park condos are on the Northeast side of campus closer to Pyramid Mall and other shopping. These units have 1-2-3 bedroom units with a standard design and a few units with a 2-story townhouse design. Originally developed in the 1970's, these brick buildings are tucked back off North Triphammer Road and offer a convenient location for residents young and old. 
There are usually laundry facilities in each building in the basement, and there may also be storage lockers/areas for bikes and/or other personal items.  

There is an association fee, which depends on each unit so you have to inquire individually. This fee include water and sewer costs, exterior maintenance, garbage removal and sometimes even heat. Taxes would be an additional cost to the owner. 
I know Sevanna Park!  Here are some properties I have sold:
E5 Sevanna Park – sold in 2009

E6 Sevanna Park – sold in 2009 (buyer's agent)

T2A Sevanna Park – sold in 2009 (buyer's agent)

D5 Sevanna Park -sold in 2004

E5 Sevanna Park – sold in 2004

E6 Sevanna Park – sold in 2011


T2C Sevanna Park

– sold in 2011
E12 Sevanna Park – sold in 2016 (buyer's agent)
A8 Sevanna Park – sold in 2016 (buyer's agent)
G7 Sevanna Park – sold in 2018 (buyer's agent)
These properties are in demand and when new units come on the market, they sell quickly!
---
Option #3: Welcome to Vista Lane
These condo/townhouse units are located just past the entrance to Ithaca College on South Hill, built in the 1980's with cathedral ceilings, south and southwest exposure and with a split level design. All units have a 1-car garage and deck and patio areas.  Only a few of these become available for sale. Location is convenient to Route 96B, South Hill, Ithaca College, Candor and Binghamton corridor. There are only a handful of condos built here…phase 2 of the development never happened so there is a lot of green space in this complex.
The association fee monthly is $180
I've sold one of these limited condos:
---
Option #4: Welcome to Eastwood Commons & Sunnyview
Located on a walking trail just south and east of Cornell and Belle Sherman is Eastwood Commons. These are townhouse style units that are often hard to come by as sales are not as prevalent here. Which indicates that the owners are long-time residents and that properties that do come on the open market are bought up quickly. These units usually have a garage underneath although there are some main level living units that have a garage attached on the same level. There are two different homeowner's associations – Eastwood Commons and Sunnyhill. The ones in the 500 block of Strawberry Hill Circle are in Sunnyhill.
There is a Resident's Association here too, and there are committees like the Grounds Committee that do a fantastic job of keeping the areas beautiful year round.  Association fees are based on square footage.  It is close to the bus stop and the East Ithaca Recreation Way which takes you to Cornell through Belle Sherman.
I know Eastwood Commons! Here are some properties recently sold:
In the past few years, these units have listed and sold quickly with brisk competition. If you want to get into this community, you will need to call me so I can let you know when something becomes available for purchase, otherwise it may sell before you see it advertised for sale!
---
Option #5: Welcome to Deer Run
South Hill offers a 1980's version of what I call the Philadelphia condo/townhouse…this is the style that most out-of-town buyers think about when they ask about whether there are any condos in Ithaca. These are newer in both style and amenities, with a couple of floor plans available including a sunken living room style which is quite appealing, or the soaring cathedral ceiling style, also popular.
Deer Run is aptly named – there are deer here! The landscaping is minimal, due to the deer that will visit your plants and consider them free food. Many owners here have found ways to garden with deer-resistant plantings. Whether you're a fan of the local deer population, it is an interesting sight to see  – natural deer moving around at dawn or dusk throughout the area.
There is an association fee which covers the exterior grounds, lawn mowing, landscaping, and street lights. Some of the townhouses have a monthly roof assessment, which is to cover the roof replacements done in 2007-2008, these run for 10 years so most will be paid by 2018. You will have to check the monthly fee for each unit to find out what their charges are currently.
Also in this area are single family homes, most of which were built in the late 1980's but mostly in the 1990-2005. This location works great for those working at Ithaca College, as it is a short drive from the IC campus. There are also great views from many of the units here and there is a neighborhood park.
I know Deer Run!  Some recent units for sale/sold:
30 Whitetail Drive

– Sold in 2015

355 Saranac Way

– Sold in 2016

92 Whitetail Drive

– Sold in 2016
---
Other options exist in smaller numbers in and around the Ithaca area:
OPTION #6:
Stone Creek condos in the
Village of Lansing
Located near Shannon Park, off Cayuga Heights Road behind the Ithaca Mall, these attached townhouses are available occasionally throughout the year. Two recent sales in 2016 were $449,000 and $460,000 – both 2507 sq ft. They include luxury amenities, open floor plans, attached garages and large master suites. Also full basements. Some basements have been finished to add more usable square footage.
OPTION #7:
 Nor Way townhouses –  
Village of Lansing
These are higher-priced 2-story townhouses in a recently developed neighborhood in the NE area of Ithaca, across the street from the Main Ithaca Post Office. They have open floor plans with large kitchens, well-appointed living spaces, optional elevators and attached garages. Some have open air balconies, some have patios. All municipal services. Growing neighborhood. There is a monthly association fee.
47 Nor Way – sold as a buyer's agent
57 Nor Way – Sold in 2017
OPTION #8:
 Black Oak Road  – off Mitchell Street in
East Ithaca
These close-to-Cornell located townhouses are rarely offered for sale. They are near the East Ithaca Recreation Way trail through the Belle Sherman neighborhood, also close to elementary schools and East Hill Plaza. Contemporary designs, full of amenities.
HOA fee is $300/month.
The newer Holly Creek neighborhood was built with federal tax credits by Ithaca Neighborhood Housing Services. Note: they are only for 1st time buyers and there are income qualifications and a limit on profit from re-sale. A good option for the price point, typically ranging from $105,000 to $130,000. The end-units are particularly attractive so you have open space to enjoy.
147 Holly Creek – SOLD in 2015 for $118,900 (buyer's agent)
OPTION #10:
  Downtown Ithaca on Hancock Street/Lake Avenue – First Time Buyers Townhouses
Located at the corner of Hancock Street and Lake Avenue, these new 2-story townhouses are offered through INHS for sale to qualified first time homebuyers. A few items of note: flood insurance is required, estimated @ $35/mo. There is also a land lease of $50/mo. And a 2% cap per year on appreciation, upon resale. There is no HOA fee otherwise.
Check INHS website for more info
OPTION #11:
 Greek Peak condos in
Virgil
If you love skiing, you may want to live near Greek Peak Ski Resort in one of the condos available here. There is also Hope Lodge, and indoor water park and lodge which is one of the Finger Lake's newest attractions.
Typically there are units available for purchase here so selection can be good for buyers.
Visit the Greek Peak Properties website to see what's available for sale.
CONDOS/TOWNHOUSES are in short supply in the Ithaca marketplace, but there are development projects in the planning stage, near Sevanna Park (called Sevanna Row Townhouses) in the NE area of Ithaca, and downtown called City Harbor Development (off Willow Avenue). There's a great local website to follow that tracks all Ithaca developments called Ithaca Builds.